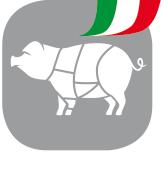 Bondiola and Bondiola with tongue flavoured with various spices
and strong aromatic herbs.
---
Bondiola
---

between 0,5 kg and 1 kg
CLASSIC

between 0,5 kg and 1 kg
WITH TONGUE
---
INGREDIENTS
Pork rind, pork fat, pork meat, salt, spices, flavourings, antioxidant: E301, preservative: E252, E250.
---
NUTRITION FACTS (100gr)
Energy
474 Kcal - 1957 Kj
Fats
  of which satured fats
46 g
16 g
Carbohydrates
  of which sugars
0 g
0 g
Proteins
15 g
Salt
3,5 g
An interesting fact and a recipe
The word «bondola» may derive from the Latin «botulo», which means casing,
or more probably from an archaic word originating from the Po area meaning a round-shaped object.
How is it cooked? Boil it for at least four hours on a very low flame,
in plenty of water without touching the sides of the saucepan.
It is served cut into slices on a bed of mashed potato, with sauerkraut or sautéed vegetables.