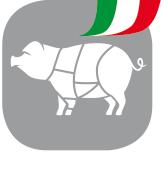 For this product, the pork belly is selected according to its consistency
and thickness which must be between 3 and 4 cm.
The meat is then trimmed manually according to specific measurements.
---
Pancetta Valligiana
How we make it?
IThe resulting cut of meat is salted and massaged by hand every day for about 7/8 days to enable the meat to absorb the salt correctly and evenly.
Subsequently, the belly of pork is left to stand with its specific blend of spices and herbs for a further 7/8 days after which it is rolled and tied ready for casing.
After a minimum maturing period of 90 days, we obtain a product with a delicate, spicy flavour typical of the salamis of the valley.